Global Bank Network Management: Build vs Buy

When approaching bank network management, a manual process simply won't suffice. Implementing software is the only way to leverage automation and analytics without increasing manual work. With that in mind, there are two options to consider, building a solution or buying one. The sections below outline the considerations for both options.
Building for Bank Network Management
One of the most obvious reasons to build a solution is to maintain a high level of control over the process. If you build your platform, you can customize every aspect, ensuring the specific features you need are included.
When building a global bank network management platform, there are two phases to consider:
Phase one includes setting up the agent bank database, working with static data within the platform, gathering all necessary information in one place, setting up contracts and fee schedules, and creating report capabilities
Phase two is more challenging and complex. Platforms need to mature to include communications and automation on the due diligence side and RFP processes—and of course, analytics.
Many organizations only consider the first phase. At CENTRL, we sometimes hear companies say they plan to focus on the second phase later, but it's not a priority at the moment. Yet, including automation and analytics in your bank network management delivers tremendous value and should therefore be a key component of your building plan from the start. By delaying phase two, you could wind up wasting time and resources in the meantime.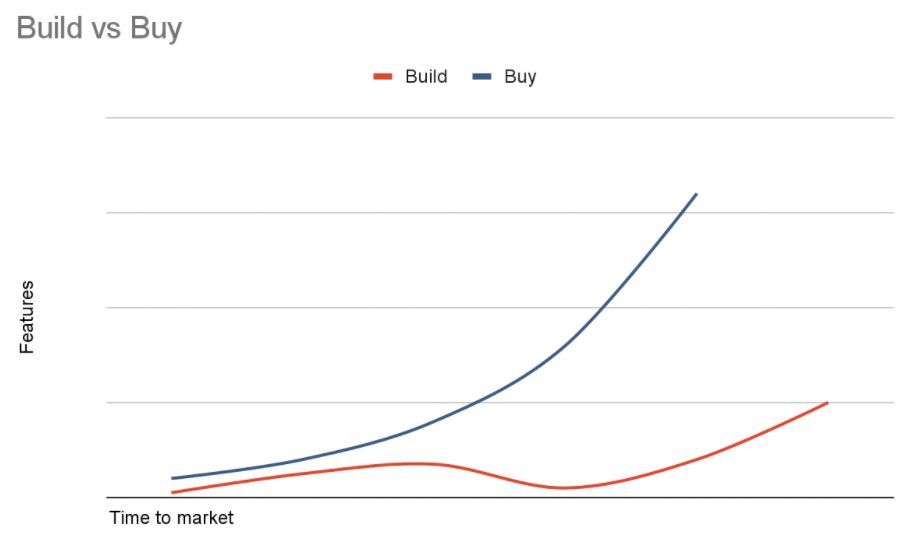 With the aforementioned benefits in mind, it's important to note that building a solution is often not the most cost-effective option. The internal headcount needs alone can mean getting the budget to dedicate the time needed to build can quickly become cost prohibitive. There is a high resource cost upfront, along with continued maintenance and development. While ongoing costs can also add some spend, annual maintenance typically consumes 40-80% (60% average) of software costs. The team also needs resources for development, testing, and setting up infrastructure.
The building process can also be lengthy. If time to market is of great importance, a team needs to take this into account. If you're relying on internal resources, there is a learning process to consider. The IT team in charge of this project will need to research and test while building. This can add months, or more likely years, to the process—if it succeeds at all. According to Nick Heudecker, VP analyst at Gartner, "85% of internally developed Big Data projects fail." That means lower reliability, fewer features, and fewer integrations with other platforms and data sources.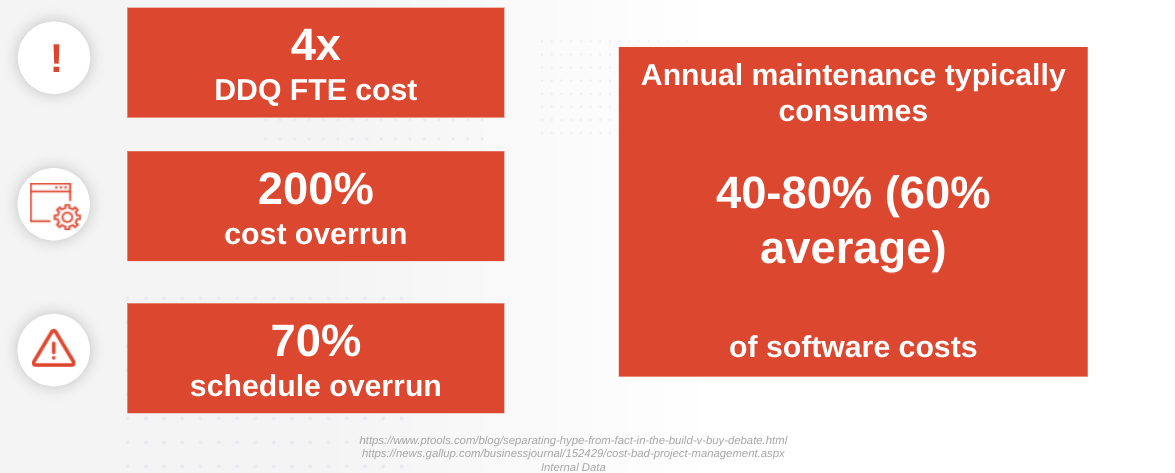 An often overlooked factor for automating DDQ responses is that the supplier network doesn't stand to benefit from standardisation of content, especially where the many requests made to the agent banks require content in differing formats.
CENTRL strives to simplify the processes for both the requestor and the sender in bipartisan flows. As such, we can receive the content in a standardized format from the major sub-custodian / direct custody providers, globally. Whilst a standard questionnaire can be adopted, many requestors often use their own format within that standard template, automating responses becomes nearly impossible.
Hindering automation could also give rise to increasing costs or create relationship issues down the line. More simply, the standard questionnaire format doesn't easily equate to an automated process, so building yourself doesn't automatically provide time savings or automation for either end of the DDQ flows.
Buying a Bank Network Management Platform Solution
Choosing to buy means more time can be dedicated internally to what matters most - value added services. Of course, there is an upfront acquisition cost for software. But, the overall cost is lower than building, as spending on resources is not a factor. From discussions with customers, we've discovered major cost and efficiency savings of more than 70% can be achieved.
Oftentimes, the matter of whether or not software will have the necessary features is the biggest question to consider when deciding between build versus buy. The simplest way to answer this question is to compose a list of must-have features. Bearing in mind the complexities of the build process, buying is the obvious solution for most organizations who can find the majority of their necessary features in an existing software solution.
As a general recommendation: If the requirement fit of commercial software is 60% or more, buy is the way to go.
Another factor to consider is that a platform with dedicated external resources is always enhanced through ongoing work. A pre-existing platform has more features, fewer software bugs, higher reliability, and integration capabilities. A next-generation platform has a lot of value that simply can't be achieved otherwise. A high level of automation and analytics means time is not wasted on manual hours, and you get concrete data on which to base decisions.
As mentioned above, control over a platform is the biggest draw to building. However, buying a platform does not mean giving up customization. At CENTRL, we work to accommodate the unique needs of our clients. Almost all our development work is driven by client feedback. When you purchase our solution, we work with customers to refine it to their precise needs.
CENTRL's BNM360 is the most comprehensive and advanced platform for automating the risk monitoring and oversight of agent banks by network managers. Learn more about BNM360 here.